Hunter Biden has been saying whatever he needs to convince people that he is down on his luck and miserable.  He even made claims in court during his child support hearing that he didn't have any money, everything he had earned during his questionable career was gone.
The judge even ordered Biden to disclose his bank statements in order to determine how much he should be paying in child support to the stripper he knocked up.
But a picture is worth a thousand words.
According to The Examiner,
Amid a court battle with the mother of one of his soon-to-be five children, Hunter Biden has been cruising around Beverly Hills in a Porsche boasting a six-figure price tag.
Photos obtained by the New York Post show Biden, son of White House hopeful and former Vice President Joe Biden, with his wife Melissa at the Beverly Hills Waldorf Astoria next to a Porsche Panamera GTS, which has a starting price of $129,300.
The Bidens enjoyed lunch at the southern California hotel, where the two restaurants on the premises feature cuisine by celebrity chef Jean-Georges Vongerichten. The weekend brunch is listed at costing $89 per person.
The photos were snapped while Hunter Biden faces a court order to disclose his financial information in a paternity lawsuit filed by his former lover, Lunden Alexis Roberts of Arkansas. The Washington Examiner revealed that Biden and his wife are currently renting a $3.8 million designer home in Hollywood Hills for $12,000 a month.
Page Six tweeted this photo of Hunter Biden riding around Beverly Hills with his pregnant wife in a Porsche.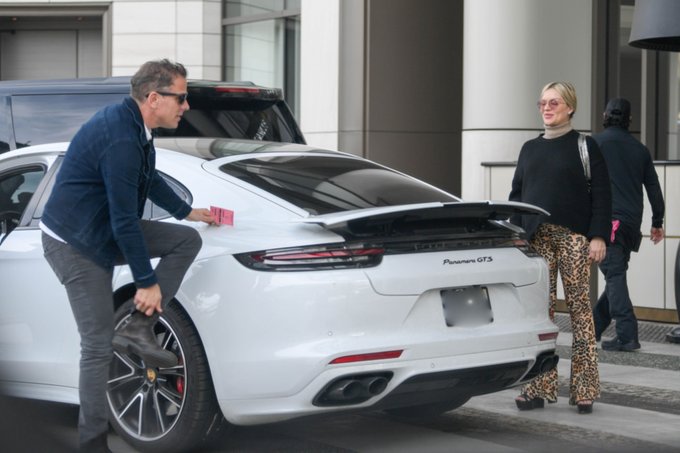 Biden is not fooling anyone by claiming he is broke. It is not possible that the son of a former Vice President, making $80,000 a month, living in a multimillion-dollar home and driving around in this car is broke.
The rich clearly have a very different idea of what broke means compared to the rest of America.