Living in a bubble, soaking up everything around you, and leading a life isolated from the outside world are not characteristics of autism. The environment actually gets worse, more painful, and more obvious.
A 10-year-old student named Benjamin Giroux was given the task of writing a poem as part of his homework.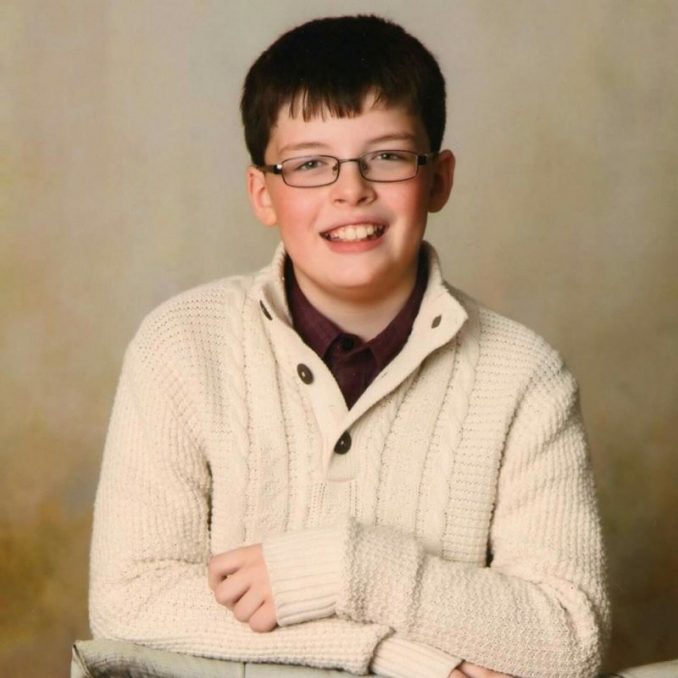 He took the time to express his heart instead of just hurling off something that rhymed. He wanted others to understand what it was like to have autism and Asperger's syndrome.
Developmental delays are a feature of people with Asperger's syndrome, a form of autism spectrum disorder. People with this condition typically exhibit little emotion and are awkward in social settings.
They might also overlook social cues that are obvious to others and be unable to read a person's facial expressions and body language.
And young Benjamin, who has Asperger's Syndrome, exhibits all the symptoms listed above. He doesn't typically display a lot of emotion, and when his parents ask him about his day, he typically gives them a one-word response.
Sonny Giroux, Benjamin's father said, "When we ask him how his day went when he gets home from school, we don't get much more than a one-word answer."
One day, Benjamin went home from Cumberland Head Elementary School looking excited. In celebration of National Poetry Month, Benjamin's fifth-grade class was asked to write a poem about themselves.
Benjamin was asked to write a poem titled "I Am." The boy was given the first two words in every sentence. From there, the rest of the poem was up to him.
The young person sat down at the kitchen table and began to scribble, holding his pen down until he was finished. A few hours later, Benjamin finally stood up and read his poem to his parents, who were moved to tears by their son's sincere writing.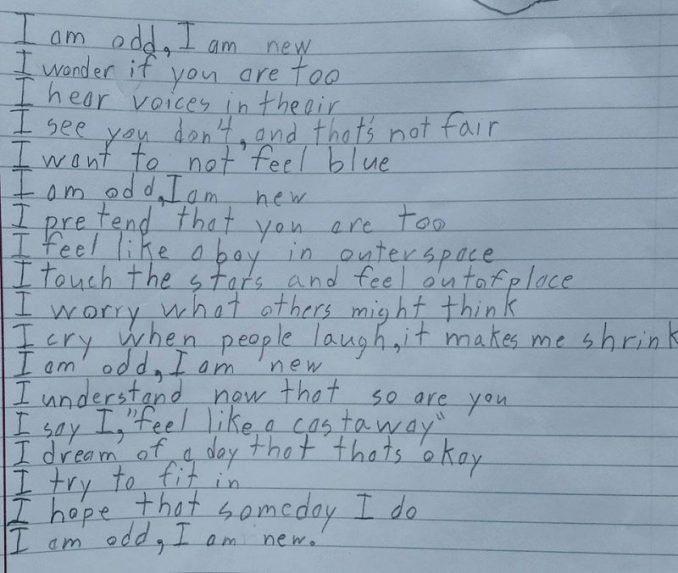 Here's the boy's full poem titled "I am Odd"
I am odd, I am new
I wonder if you are too
I hear voices in the air
I see you don't, and that's not fair
I want to not feel blue
I am odd, I am new. I pretend that you are too,
I feel like a boy in outer space. I touch the stars and feel out of place. I worry what others might think. I cry when people laugh, it makes me shrink,
I am odd, I am new, I understand now that so are you. I say I 'feel like a castaway,' I dream of a day that that's okay,
I try to fit in. I hope that someday I do. I am odd, I am new.
Being autistic had always made Benjamin feel unique, and at times it made him stand out from the other kids.
His poem, "I Am," expresses his emotions in such a unique way that I believe he is undoubtedly a special young man.
"At first, we felt sad and hurt that he feels isolated, alone, misunderstood and odd at school," Sonny said, Benjamin's mother.
"As the poem went on, we realized that he understands that he's odd and that so is everyone else in their own way, which is what Ben wants everyone to embrace."
Benjamin was supposed to read his poem aloud in front of the entire class the next day. When he awoke that morning, however, his anxiety took over and he decided to stay at home.
He wasn't convinced that his poem was any good, so his father shared it on Facebook in the hopes of receiving positive feedback from their friends and family. But what they got was even better than they had hoped for.
The National Autism Association saw the photo and shared it on its Facebook page, where it received a lot of positive feedback from people who were moved by Benjamin's candid words.
"We try to read him as many comments as we can to show the impact he's had. It makes him happy too, which is always nice to see," Sonny said.
Benjamin received several awards as a result of the poem's popularity. His work has also been used in children's books, songs, and even tattoo designs!
But the boy's favorite part is when people with developmental delays write him letters about how his words empowered and inspired them.
"Ben's goal was to have people understand that being odd is different, and different is amazing, and people shouldn't be afraid of who they are. And that makes me one proud father!" Sonny said.
Sources: Taphaps, Lovethispic, Shared