Many dog parents know that it is always important to adopt instead of shop. However, there are still people that don't agree with this, but the humane society is working to change that.
Petland is one of the biggest pet store chains that sell puppies, and while many employees and customers have been skeptical over the years — one woman just see something that isn't right– and decided to speak up.
Katelyn Cerciello a young woman from Pennsylvania sees herself as an animal lover, who eagerly took a job at Petland in Robinson Township, however, Cerciello found something heartbreaking working in the store.
She has recently been observing Petland on the grounds of animal cruelty, it turns out that Petland has been denying their animal's proper care and even selling sick puppies to customers.
Cerciello says she "couldn't watch the owner refuse vet care for sick puppies anymore, ship them back to the Hunte Corporation to be euthanized, or in general sell puppy-mill puppies for thousands of dollars to the unknowing public." That's why she decided to take the matter into her own hands. Cerciello has documented her own experiences at Petland for the last month.
On her blog and her Facebook page, she then revealed what happened about the mistreatment of animals she witnessed in the Petland store in Pennsylvania with pictures of pets that had been mistreated or not treated at all to back up her claim.
Cerciello explained that she could no longer stand it when the owner of the pet store refused veterinary care for ill puppies and instead sent them to Hunte Corporation to be put to sleep.
"I kept telling him something needs to be done, and he wouldn't do anything," she recalled.
Sadly, the owner seems to only care about making money. "You could tell they were sick. Nine-week-old puppies should be bouncing around playing, but they'd be lying on the floor."
In a post that has gone viral and stirred much media attention, the ex-employee began, "I have been involved in animal husbandry and breeding for many years, and have never seen a set-up like Petland. Hopefully the public will soon start to understand the cruelty that goes on at this store and refuse to buy from them. This store needs to be shut down as soon as possible."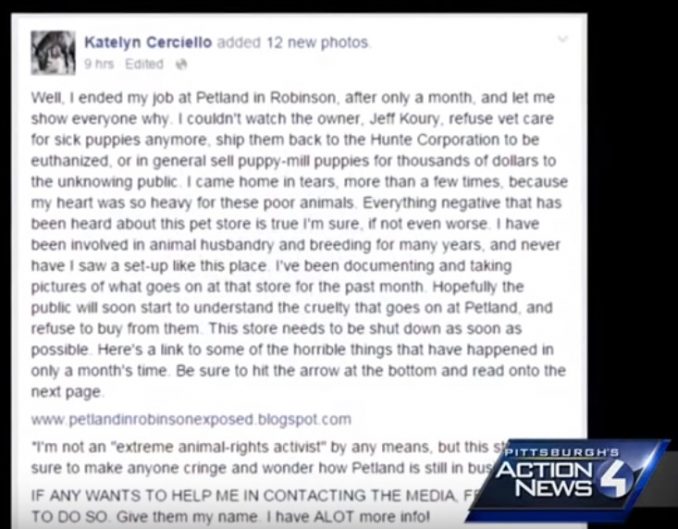 Cerciello claimed that many times after what she saw, she would return home in tears and with a heavy heart. The former employee said it's a miracle the chain is still in business.
One of the images that Cerciello took during her short tenure with Petland and shared on Facebook –displayed a cage filled with mice. One mouse was dead lying in the corner and several others had skin that had been chewed raw and bloody. The woman said one 20-gallon tank had a total of 65 mice inside, 20 babies, and 45 adults. Cerciello added: "Rather than separating the mice by sex, the owner allows them to breed and puts the babies in a plastic bag, in the freezer alive, to sell as snake food."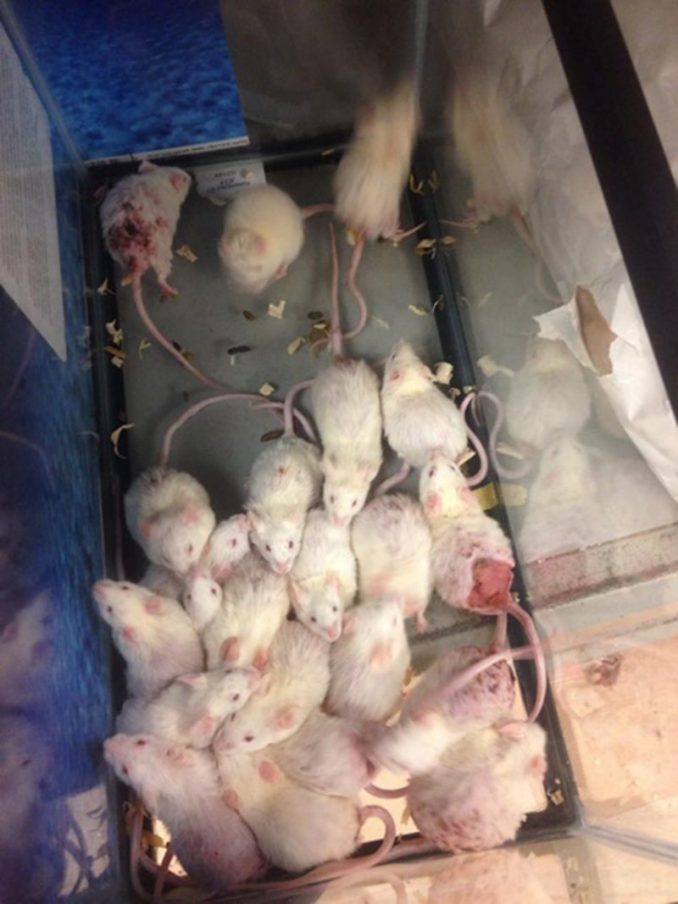 A Maltese puppy from a breeder who is known to have failed USDA inspections was shown in another image the Cerciello posted. The reason many of these puppies are so sick is that they're from puppy mills. Nevertheless, they maintain that the chain is not a puppy mill.
When speaking about the mistreatment the dogs underwent, Cerciello claimed one of the staff members told her to go around with the dog because a sick-appearing Petlanddog would not result in a sale. The dog, according to the ex-employee, required veterinary attention but was instead given an IV. She claimed the store received an order of puppies that were three dogs short because the puppies perished in transit before she resigned.
The viral post also included a picture of a hamster with a cut paw. Cerciello asserts that she administered antibiotic ointment to the hamster herself after the staff allegedly neglected the animal's injury. After taking a day off, Cerciello went back to the shop and discovered the hamster's cage was empty and that nobody knew what had happened to it.
Jeff Koury, the store's owner, denied the allegations when reached for comment, and stated to reporters that the store is up to date with the American Kennel Club, the company also lawyered up. He claimed that Katelyn Cerciello had made up the accusations, including the photos.
Despite the allegation, "I just want people to know what actually happens there, what they're spending thousands of dollars on." Cerciello said, standing her ground.
Petland, Inc. was established in 1967, and its first locations were owned and run in Ohio, according to the business' website. Soon, shops began to appear in West Virginia and Kentucky. Petland began franchising pet stores and engaged in the wholesale distribution of pet-related goods by the 1970s. By the late 1980s, the chain had expanded into foreign markets, and it now has stores all over the world.
To truly make a difference for these dogs, more people need to be educated about pet stores and puppy mills. The more word that is spread about these issues, the sooner these horrifying actions can stop, thanks to Katelyn Cerciello's brave action, sooner or later these pet stores will get the karma they deserved.
Watch it here: Youtube/WTAE-TV, Youtube/WTAE-TV
Sources: Taphaps, Wpxi, Opposingviews